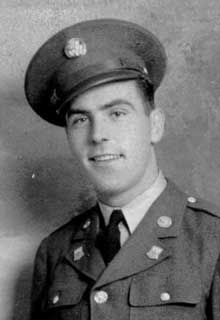 ROY LOREN4 SIEBLER (C WILLIAM3, FRIEDRICH2, JOHANN WILHELM1) was born 23 Sep 1919 in Aurora, Nebraska, and died 01 Dec 1975 in Denver, Colorado. He married GORDES MARIA STARNER 1943 in Fresno, California. She was born 14 Mar 1910 in Solna, Sweden, and died 29 May 1982 in Denver, Colorado.
After World War II, Roy worked as a police officer in Denver.
More About ROY LOREN SIEBLER:
Burial: 1975, Crown Hill Cemetary,
Cause of Death Heart Attack
Military service: Army Air Corp WWII
Residence: Denver, Colorado
Child of ROY SIEBLER and GORDES STARNER is: None.