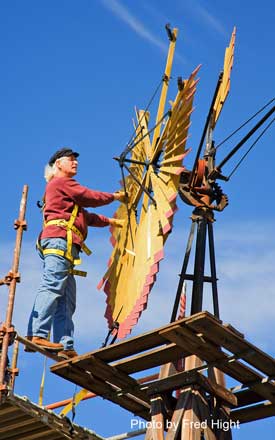 Christina Hughes Babb: Q&A with Ron Siebler
Published: April 2012, The Advocate Magazine. Reprinted with permission.
Paralegal-turned-remodeler and historic restoration expert Ron Siebler, a Lake Highlands resident, convinces us that the vintage windmill is the epitome of form and function. These towering beauties no only pump water, but they also make admirably visible the force of nature -- wind -- says Siebler, a romantic who relies on his passion for handiwork and the sweat of his brow to bring old things back to life.
Paralegal to remodeler, huh? How did that happen?
I was laid off. I had accumulated a lot of tools from a home repair ministry I participated in through my church. I've always been hands-on, and building is in my blood. My great-great-grandfather was a wagon builder; my great-grandfather and grandfather were blacksmiths. I have a godfather who was a builder, and my dad was a mechanic and eventually an airplane mechanic and a pilot. My own interest began when I was 3, just hammering nails into anything I could find. My first major job, fortunately, was remodeling St. Thomas the Apostle Episcopal Church on Mockingbird at Inwood. It's nice working on a big church because some of the members of the congregation can see your work and might become clients.
How did the historic renovation come about?
During the time while I was reassessing my life and career, I became very interested in my family's history and I went to Grand Island, Nebraska and apprenticed at the blacksmith shop where my great--grandfather once worked, on the grounds of Nebraska's Stuhr Museum. It was so hot in the shop, I would look longingly out the window, wanting to get out in the breeze. That's when I noticed the broken old wind-mill. Not spinning. It had been sitting idle for years.
What is it about windmills that intrigues you?
My earliest experience with windmills is in the Nebraska fields with my grandfather. Windmills dotted the plains, and I would ride with him, often on horseback, to check the windmills that would supply water to livestock. He would hang metal cups on the windmills so we could always have something to drink from. I can still taste that water. Water from a windmill is the cold-est, purist, sweetest-tasting liquid ever. My favorite windmill had a cistern at the base [cisterns stored the windmill-generated water] with a wagon wheel as the cover and surrounded by wild strawberries. My grandfather and I would sit and drink the water from tin cups and eat wild strawberries. I also heard stories of my grandmother and her brother climbing to the platforms of the windmills, sitting there and looking over the fields. I have romantic notions about the whole thing.
So you fixed the defunct Nebraskan windmill. Any others?
I have now restored two windmills from the late 1800s-early 1900s, using the tools and methods of the era - one outside the Siebler blacksmith shop in Nebraska and the other one, a victim of hail damage, in Lantana, Texas. The first one, outside the blacksmith shop, was put on display in the museum for a year before it was returned to its spot in the sky where it is now. When my grandfather died at 99, I got from his estate one of the tin cups that he hung on the Nebraska windmills. The windmills I restore each get their own tin cup.
Blacksmithing is another hobby that is a family legacy?
Yes, in fact my great-grandfather, William, first taught me to use a hammer, that's when I was 3. Later I took the apprenticeship to learn my way around the shop and hone my skills. Each apprenticeship has its own unique legacy handed down from generation to generation.
I recently gave a talk at Old City Park about smithing, the origins of metal work, then versus now ... very few things are still made on the anvil - the blacksmith's tools are metal, anvil and fire. Today we have machines and tools that definitely make it more efficient, though any decorative metal work still requires intensive labor.
When you have to make a living remodeling an office or a kitchen, does it seem boring compared to the historical renovations?
No, it is a work of art as well. Remodeling is different than building in that we often get to be part of a solution, be creative, and have a say in what is being created. Because I have ancient tools and knowledge of their methods, I have been brought in on some interesting jobs, such as a home in Preston Hollow that is fashioned after "Harry Potter" and "The Hobbit" settings. In remodeling work, there is usually some element of history. When we took the ceiling down at St. Thomas, for example, we found the signature and date of the two carpenters who had done the ceiling 50 years before. Even in homes, it is not unusual to find a signature of the original builders. Bottom line, I have a passion for history and handiwork that has led to various and interesting experiences.
-Christina Hughes Babb