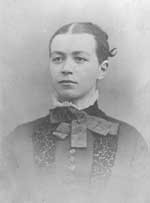 MAGDALENA MOOG was born on 26 May, 1869 in Winzenbach, Elsesis, France, and died 20 Mar 1909 in Cornlea, Nebraska.
"Lena" made the Atlantic Crossing on March 3, 1887, from Antwerp to New York on the ship Westernland, traveling with her mother, Magdelene Marx Moog (16 Jan 1832 - 24 Feb 1918) , her brother Phillip Moog (5 March 1871 - ?), and two sisters, Carrie Lena Moog Bremer (01 Dec 1860 - 3 April 1943) and Elizabeth Moog Berck (10 Aug 1872 - 21 July 1963). Her older brother, Peter Moog (21 Dec 1860 - 12 Aug 1929) made the crossing several years before. During the crossing she met her husband to be, C William Siebler. Upon arriving in America, she and her family first settled in LaPorte, Indiana for a year before moving to Plattsburg, Missouri for 2 years. In 1890 they settled in Nebraska.
After Lena and William married on 28 Sep 1891 at the Immanuel Lutheran Church, 14th & 24th Street, Columbus, Nebraska, they moved to Cornlea, Nebraska. Text from the 1890 Business Directory describes "CORNLEA, as a village of 75 inhabitants on the Scribner & Oakdale branch of the F. E. & M. V. R. R., located in the northern part of Platte county and surrounded by industrious German and Welch farmers." They had 12 children who went to School District #38 in Cornlea. Lena regularly took the children to church at the St-Paul-Evangelical-Lutheran Church which was located 1 mile north of St. Benard, Nebraska.
Lena died on March 20, 1909 in their home at 3:15 PM, just days after the birth of their 12th child. Her obituary in the Humphrey Democrat stated that "Mrs. Siebler was a good Christian woman always ready to give a helping hand to those in suffering and distress. She was a devoted wife and loving mother and her home will be dark without her."