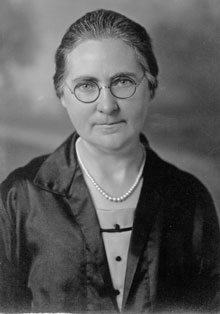 HATTIE LUCINDA2 HYATT (ISAIAH1) was born 10 Oct 1885 in Kingman County, Kansas, and died 03 Sep 1974 in Aurora, Nebraska. She was married to C WILLIAM SIEBLER on 25 Mar 1910 in Medicine Lodge, Kansas by Judge Garison. Her husband, William, was born 11 Feb 1868 in Nöttingen, Germany, and died 30 Nov 1954 in Aurora, Nebraska.
Notes for HATTIE LUCINDA HYATT:
On Friday nights Hattie would prepare sweet dough and make cinnamon rolls in the shape of a snail. She would also bake coffee cakes all night long. She would take the cakes to the meat market on Saturday morning to sell and would buy round steak from the proceeds to make meatloaf.
Hattie called William "Dad". William liked Hattie in blue.
According to her daughter Mildred, Hattie was not musically inclined and did not like to dance.
William and Hattie lived at 1618 North N Street, Aurora, Nebraska. They moved into their home on August 30, 1912, from Cornlea, Nebraska.
Hattie and William decorated their house and tree on Christmas Eve. Each child would find an orange in their sock Christmas morning. The girls all had new clothes for dolls that Hattie had made by hand.
Every Decoration Day (now Memorial Day) Hattie and William would travel to St. Bernard and decorate the grave of William's first wife, Lena.
Children of HATTIE HYATT and WILLIAM SIEBLER are:
GEORGE SIEBLER, b. 05 Dec 1911, Farmville, Virginia while Hattie was staying there with her mother.; d. 09 Jun 1953.
ELIZABETH C. SIEBLER, b. 11 May 1913, Aurora, Nebraska; d. 1914, Aurora, Nebraska.
FRED CARL SIEBLER, b. 11 Feb 1916, Aurora, Nebraska; d. 11 Mar 1982, Arlington Heights, Ill.
MILDRED VIRGINIA SIEBLER, b. 07 Nov 1917, Aurora, Nebraska.
ROY LOREN SIEBLER, b. 23 Sep 1919, Aurora, Nebraska; d. 01 Dec 1975, Denver, Colorado.
WILBUR LEE SIEBLER, b. 12 Aug 1925, Aurora, Nebraska; d. 25 Sep 1999, Junction City, Kansas.